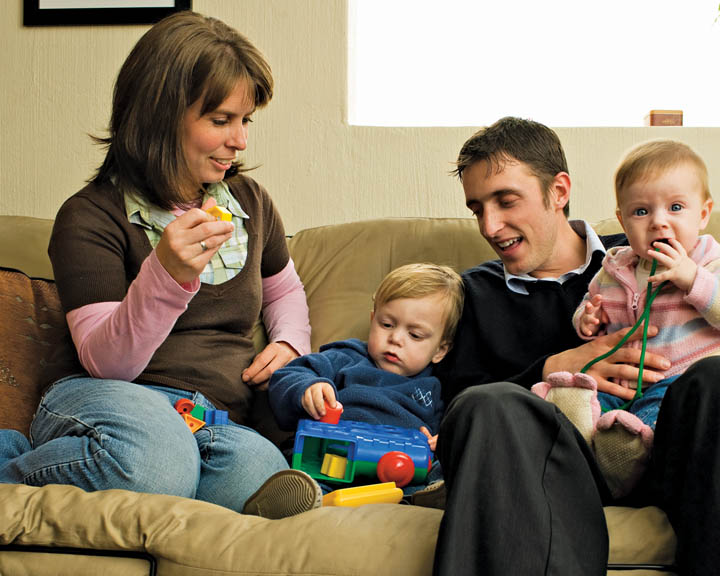 "Teach the gospel and basic values in your home. Establish a love for reading the scriptures together. Too many of our parents are abdicating this responsibility to the Church. While seminary, auxiliaries, and priesthood quorums are important as a supplement to parental gospel instruction, the main responsibility rests in the home. You might want to choose one gospel subject or a family value and then watch for opportunities to teach it. Be wise and do not involve children or yourselves in so many activities out of the home that you are so busy that the Spirit of the Lord cannot be recognized or felt in giving you the promised guidance for yourself and your family" (M. Russell Ballard, "What Matters Most Is What Lasts Longest," Ensign, Nov. 2005, 43).
Because children learn by example, it is crucial that we let children see us doing the kinds of things we want them to do, like serving others, being happy, and studying the scriptures. An even better way to teach about the good feelings and blessings that come from keeping the commandments is to involve children in our activities and talk to them about the experience afterward. Children have different learning styles, so displaying good behaviors, having them join you in righteous activities, and then talking to them about the experience can help many children to understand how and why we obey God.
Family is of the utmost importance to Mormons, and we believe that family members, and especially parents, have responsibilities to the family. The family is the only steady and consistent part of a child's life. Family remains the same no matter who their friends are, who is teaching them at school, what town they live in, or what Sunday School class they're in. Only parents can truly know how their child is progressing, how he learns, what he likes to do, and where he needs to improve. Thus, only parents have the time and ability to teach directly to the needs of their children.
Children learn quickly when they are youngest, and the instruction and examples they receive in the very early years can be the most instrumental in forming who they are. If they develop a relationship of prayer and study with Heavenly Father and Jesus Christ when they are young, they will be able to rely on that for comfort for a lifetime. By nature, children trust, love, and watch their parents more than any other adults. Parents have a unique opportunity to guide their children's lives in a way no other people can. And of course, with this great power, parents are the only ones truly responsible for the teaching of their children.
There are so many reasons to teach our children. Their salvation and ours hang in the balance. But more than that, these children were born with and will develop amazing talents and abilities. They have special gifts that will allow them to bless the lives of others in ways nobody else can. Our posterity, like Abraham's, can be a blessing to the world, but first we must give them what they need for their minds and spirits to grow.